Volleyball on Track For State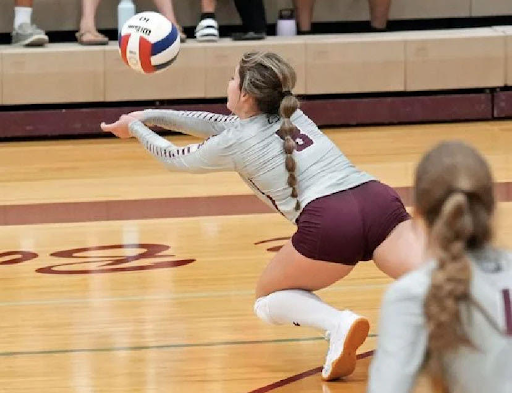 Girls volleyball played successfully in their past two games.
With some successful sets, passes, and strikes the Lady Bulldogs are on track to possibly go to State. This past weekend, the volleyball team played against Summit with a well-deserved win of 3 to 0. This past Wednesday they played Glenwood with another win of 3 to 2. "It depends on how the rest of the season plays out, but we have a good chance of going to state," says Kyra Birch. She's a sophomore and plays varsity, but has recently been watching from the sidelines after a torn ACL accident. "It's good, I've been learning a lot from watching volleyball and keeping score." With 7 wins and 5 losses, the ladies have a clear plan to get to state. Lauren Hardin, a Junior, plays outside, middle, and sometimes right side hitter on Varsity. "I think as a team we played pretty well, we kept our errors under control and I think as a team we clicked." Lauren goes into detail to explain how they had to keep their spirits up in order to win the 5th set against Glenwood. So far, the Lady Bulldogs are playing very well and hope to keep their winning streak. "I think there is definitely a chance we could go to state if we keep working hard and building our team dynamic," Lauren says. Every day after school for around two hours the girls practice in the gym, putting in a large amount of effort and time to get where they need to be. Their next game is this Saturday, the 1st of October, against Montezuma Cortez for Varsity. Both the JV and C team have games against Battle Mountain and Steamboat Springs that day as well. To get ready for the packed gym this weekend, here are some key phrases and positions the girls will use to win:
Positions:
Setter – Main contributor to the offense of the team; sets the ball to prepare for spikes and hard hits
Outside Hitter – Lead attacker in offense; has to jump high, hits from a variety of angles
Opposite Hitter – Known as right-side hitter; has to receive the serve from the opposing team
Middle Blocker – The tallest player on the team; blocks the ball
Libero – Wears a different colored jersey; only plays on the back row
Defensive Specialist – Works well with the libero; focuses on ball control and passing; is able to quickly substitute any of the positions
Phrases:
Pass – The first contact after a serve 
Set – The second contact; usually made with two hands overhead
Hit/Attack/Spike – Typically the third contact when a player uses one open hands and swings at the ball to send it over the net
Serve – The very first contact that starts every match
Dig – The first contact made after an attacker from the other team sends the ball over the defensive team
Block – Move/contact made by a player at the net to prevent the ball from coming over by an opposing player
Rally – While the ball is in play
Leave a Comment
Donate to Palisade Paw Post
Your donation will support the student journalists of Palisade High School. Your contribution will allow us to purchase equipment and cover our annual website hosting costs.
About the Contributor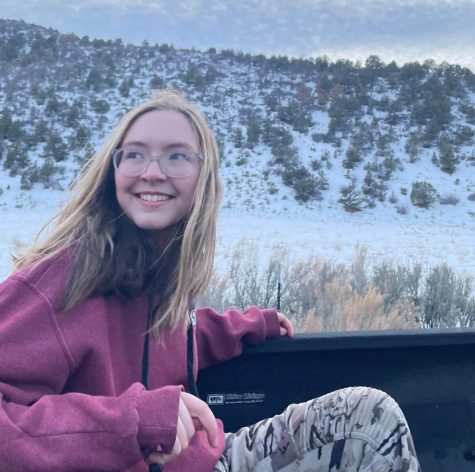 Brielle Sorensen, Features Editor
Hey, I'm Brielle Sorensen! I'm a junior and this is my second year working with the Palisade Paw Post. I am the Features editor and love writing stories...