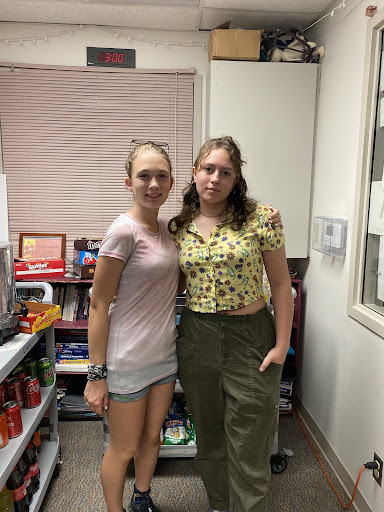 Clubs are a big part of school culture, you don't have to play an instrument, sing, dance, or play a sport in order to feel involved. Palisade High School recently held its annual club fair on Monday, showcasing the wide array of extracurricular activities available to students. The event was a vibrant and bustling affair, with each club setting up booths decorated with posters and banners, eager to attract new members. From academic clubs like the FCCLA to artistic ones such as the Art Society and Drama Club, there was something for everyone to explore.
The club fair served as an excellent opportunity for students to discover their passions and interests outside of the classroom. In an interview with Katy Arcady she stated, "I really liked how all the clubs you could join were just right there. You don't have to walk around not knowing where one is, it's very useful to have it in just one section. I'm also planning on joining the FBLA club. It sounds really interesting." When asked if she liked that freshman had to join a club she said, "I think it's a good thing because it helps freshman get involved in school if they don't like sports and want to do something different."
Representatives from each club were present, ready to answer questions and provide information about their respective organizations. This allowed students to gain valuable insight into what each club entailed and how they could get involved. Moreover, the fair fostered a sense of community among students, as they mingled with peers who shared similar hobbies or aspirations. Overall, Palisade High School's club fair proved to be an exciting platform for students to explore new horizons and connect with like-minded individuals in pursuit of their passions.