J.V. Takes Tough Finish To Their Season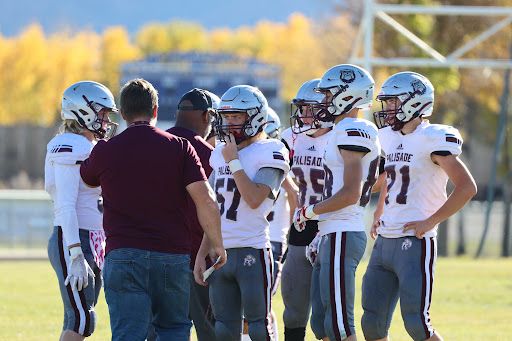 Monday afternoon the Palisade Bulldogs JV team took on the Fruita Monument High School football team for their last game of the season. The Bulldogs unfortunately took a tough 12-51 loss against Fruita. Fruita came out strong and ready to play. Their defensive line in particular was very strong and broke through the Bulldogs offensive line often and quickly. With how quick Fruita's defense was moving it gave Palisade limited time to move the ball. At halftime the Bulldogs were getting shut out having not scored any points. After halftime however the Bulldogs rallied and came back and scored two touchdowns but were unable to get any extra points. With less than a minute left in the game Fruita was in the lead and they decided to run and score one last touchdown widening the score gap once again. Even though the boys took a tough loss for their last game many of them see it as an opportunity to grow and improve for next season.
The Bulldogs JV team had a strong season and were one of the closest teams as far as working together. Quarterback Layne Ruppelius commented on how they came out to play the second half. When asked what the team needs to work on, Ruppelius stated, "Energy, Effort." This group of boys continually show dedication and determination. They improved tremendously from last year winning against teams that they had lost to. Some of the JV boys will be suiting up for the final varsity home game and senior night. The Bulldogs will face the Glenwood Demons at Stocker Stadium at 6 p.m.
Leave a Comment
Donate to Palisade Paw Post
Your donation will support the student journalists of Palisade High School. Your contribution will allow us to purchase equipment and cover our annual website hosting costs.