The mountain biking community is back here at PHS. They are getting ready to start as the new year begins to settle in. Their most recent race was just a few weekends ago in Leadville.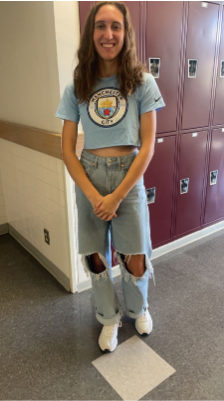 Kate Rizzo, a senior and member of the mountain biking community here at PHS states, "We race through Grand Valley Cycling but I bike for Palisade. Mountain biking is just something I've always enjoyed doing. It's really nice to do something you enjoy, especially in the environment we have here, out in the mountains the scenery is beautiful. It's like working out while looking at pretty landscapes." If she could describe mountain biking in one word, it would be challenging. "You have to have the tactical skills to get over rocks or roots in the way. It is also really, really cardio-intensive, you're climbing a lot. You have to be in shape, because if you aren't then it really hurts." Something she doesn't like about mountain biking is the exposure. "I mean, you're wearing tee shirts and shorts, you're very exposed and it is pretty common to get scraped up. If you crash, your elbows and knees can get all messed up. I have a lot of scars, you can get hurt easily. We don't really wear padding, but you can. It's really just that it adds a bit of extra weight that you don't want to carry around while biking. It can get in the way of the activity.
The next mountain biking race is this weekend. Good luck bikers!