Ceremonia DP
Palisade es conocida por muchas cosas, desde atletas con un juego poderoso hasta estudiantes de buen corazón con un impulso motivado. Pero una de estas cosas notables que hace único a Palisade es el Programa IB. IB, o Bachillerato Internacional, es un programa que se ofrece en Palisade que brinda a los estudiantes las herramientas necesarias para tener éxito. Este programa es reconocido en universidades de todo el mundo y aquellos que completan el programa pueden obtener mucho éxito universitario. Es un curso desafiante con clases de alto nivel, que incluyen español o francés, que debe dominar al final del programa. Todo este trabajo duro y dedicación finalmente ha dado sus frutos. Los graduados del Programa del Diploma (PD) de este año han tenido éxito en el programa y casi han terminado. Para honrarlos, Palisade tiene un banquete para todos estos estudiantes para mostrar su arduo trabajo y dedicación al programa durante estos dos años. "Estoy feliz de que haya terminado y todo este arduo trabajo que dediqué finalmente está dando sus frutos", dice el estudiante de último año Zenon Reece. "Estos dos años han sido geniales y todos los amigos que he hecho son como mi familia". El miércoles 26 a las seis en punto, los estudiantes exhibieron sus proyectos CAS (Creatividad, Actividad y Servicio), que son grandes proyectos en los que trabajan durante el año para marcar la diferencia. Los profesores del PD entregaron premios a los alumnos que destacaron más en diferentes áreas de las clases. A la mitad de la entrega de premios, cinco de los alumnos del IB demostraron su talento musical en una actuación musical que incluía a Wyatt DeFord, Taylor Mosby, Nicholas Triest, Zenon Reece y Dominic Fletcher. Se entregaron premios de Literatura, Lengua, Historia, Ciencias, Matemáticas y Artes y Gestión Empresarial. Después de que se entregaron todos los premios, los estudiantes devolvieron a los maestros obsequios para celebrarlos también. Fue una linda velada llena de celebraciones para los alumnos que pusieron todo de su parte estos dos últimos años, y para los profesores que también han hecho lo mismo. A lo largo de la noche, los estudiantes de cocina de PHS Family and Consumer Science bajo la dirección de la Sra. Talley prepararon comida y postres. ¡Fue una noche maravillosa y felicitamos a nuestros estudiantes del último año de IB que completaron con éxito el programa!
Estudiantes del Diploma IB 2023:
Emma Aubert
Violet Balestrieri
Logan Bankert
Deniz Bean
Attira Buck
Alexis Cardenas 
Mallory Cawood
Dillon Cogley
Maria Cordova
Dawson David
Wyatt DeFord
Morgan DeGeorge
Liam Ferguson
Emma Flanagan
Katherine Flanagan
Carlos Gonzales-Quintero
Ella Kindall
Charlotte King
Mataya Licata
Grace Miley
Taryn Miller
Taylor Mosby
Zenon Reece
Paolo Reitz
Anna Respet
Bailey Rubinstein
Hudson Seeman
Brian Segers
David Sleigh
Nicholas Triest
Maya Znamenacek
Leave a Comment
Donate to Palisade Paw Post
Your donation will support the student journalists of Palisade High School. Your contribution will allow us to purchase equipment and cover our annual website hosting costs.
About the Writer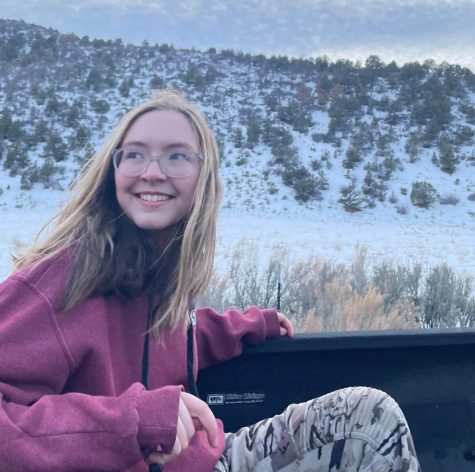 Brielle Sorensen, Features Editor
Hey, I'm Brielle Sorensen! I'm a junior and this is my second year working with the Palisade Paw Post. I am the Features editor and love writing stories...